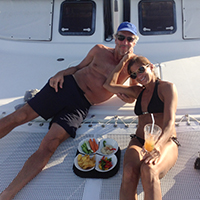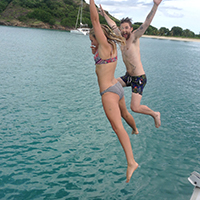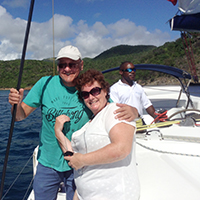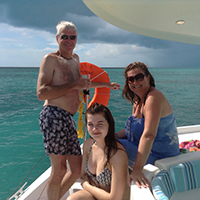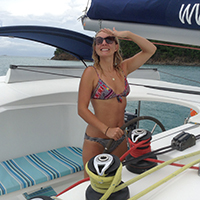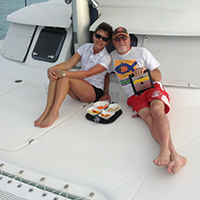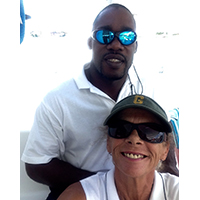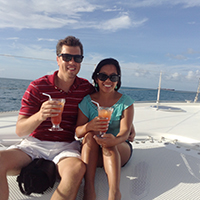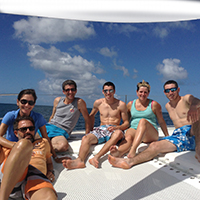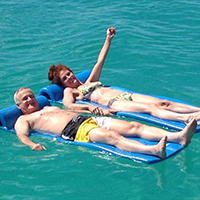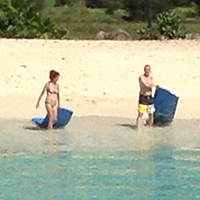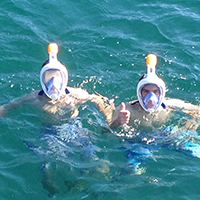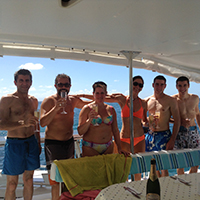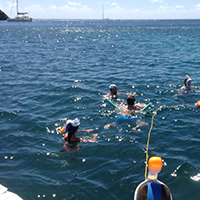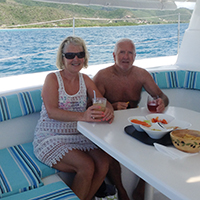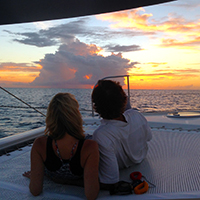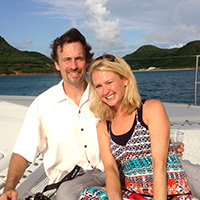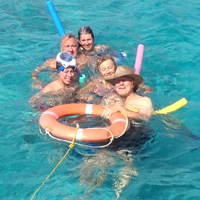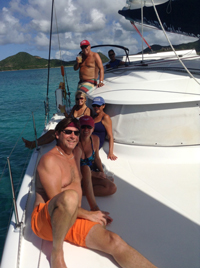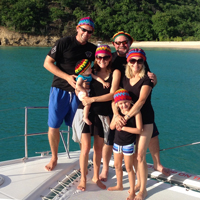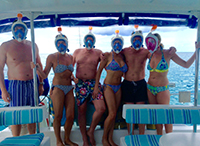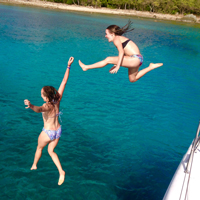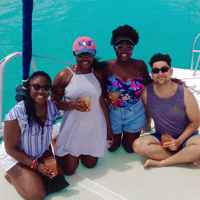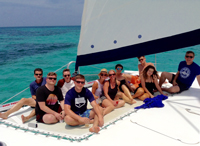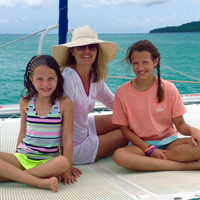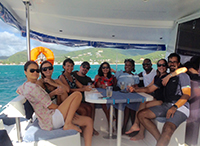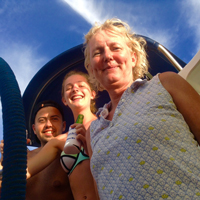 "CatchTheCat" Charter Blog

A Blog by Margot... just a small insight into our day to day activities sailing and having fun on "Catch The Cat Antigua" Catamaran... if you enjoyed reading them… come along and join Captain Lushi and myself for we will make it the most memorable day of your vacation... Promise.

Actual visitors reviews can be followed on Tripadvisor [ click here ]

January 28, 2018
Christmas was a busy time for Catch the Cat... a lot of bigger groups, as expected, families travel together, also friends… Captain Lushi (grandad) and myself (nanny) we so pleased we had our granddaughter Amara helping us through her school vacation, like a chip off the old block (as they say) she slips in so well, have to hand it to her she is great... she is also an accomplished swimmer- snorkeler so she can guide guests at Cade's Reef so they get to see the young Coral so pretty yellows, white and purple coming back to life, and the great amount of marine life to see... thanks Amara. 
Into the New Year... like Christmas just passed through the islands... and some amazing sightings of Turtles, huge ones on our way to Cade's Reef, and the smaller ones at Carlisle bay... luckily we have had so many guest swimming/snorkeling behind them at Carlisle... we also have 5e pleasure of a Ramora. At Carlisle, on first sighting you would think it was a shark... but.. just to clarify.. he is not it's just a sucker fish, and you can tell by the flat part of his head where he suckers on, but he is such fun with the guests especially when feeding him bread, as he can turn so fast and has such an appetite.
Last week we were so lucky in having Dolphins at the bow of the boat, rolling and playing in the waves , also they had two babies who were jumping right out of the water, having such fun... lucky guests that day... and lucky me... I always get excited.
Soon approaching February and we still are having some high winds, and ground swells, hopefully this will subside as we move through a February.... and the drier months. 
All is good at Catch the Cat,Till next time, as we sail away. 
December 2, 2017
A very enjoyable few weeks sailing, breezes absolutely brilliant for sailing ( at times ) water clarity... amazing. There have been days at the reef where it was so calm you could quite easily spot the starfish on the sand, fishes swimming by, so easy to see Tim's wreck at the reef when sailing past.
We had two super guests out with us mid-November, who were telling us of their encounter on the beach the day before. They said it was like the earth was moving... only 4 feet from them... and out came 100 baby turtles or more.... Wow what a sight... luckily they got it on video. What a memorable moment for them, seeing them all make there way to the ocean. Good one.
How lucky to be on "Catch the Cat", to view two sets of Dolphins. Oh, how we all love these!
May the great weather continue through December. "Catch the Cat" is looking very busy for the festive season - through January. Captain Lushi and myself look forward to spending the day and meeting all.
As we sail away...
October 13th to November 7th - 2017
After a six week break, it was so nice to get Catch the Cat back on her Day Charters.
With beautiful sun filled days, and lots of new guests to start a season that's looking extremely busy, we set sail to our first week of glorious weather.
Lots of turtles to be seen, guests caught a lovely virgin snapper, and a rainbow runner, which Captain Lushi cleaned up and seasoned for them to BBQ in the evening. Yum yum.
Couldn't believe how the storm surge had moved a huge pile of dead coral at the reef, this coral has been there as long as I have been coming to Antigua in the early years, so Irma must have packed a punch at the Reef... apart from that - guests tell me that the live coral is still good, as with the brain corals, and the Marine life is as good as ever... fantastic.
Already Catch the Cat has had birthdays and anniversaries to celebrate. And, this week a proposal. So, all is good here in Antigua. And, Christmas is so near.
As we sail away...

September 9th, 2017
The end of an amazing second year with Catch The Cat… what to say, other than thank you Thank you to all our guests for making it an unforgettable time.
I think this year saw more honeymooners than in our previous year, absolutely fab. Antigua is a super destination for peace, tranquility and that memorable time spent together. And, to celebrate with us... memorable.
Lots of anniversary's, birthday celebrations, families, groups of friends, returning guests. Whatever you were celebrating, we had a great time with you all on Catch The Cat.
We had sightings of whales, dolphins, always turtles. (Just love them.) We had three remoras would visit at Carlisle Bay for at least 3 weeks, a good size. Some guests actually thought they were sharks. Have to say at first glance, yes they do look like, plenty of yellow tail Snapper and ballyhoo at Cades Reef, ( think they wait for us to arrive to be fed ) plenty of Starfish, to show the children, coming in all sizes and colours, the blondes, brunettes and the khaki colour ones, Stingrays leaping high out of the water, shoals of bait fish and tuna, like waves appearing in the water. Simply amazing.
I also adore watching the frigate birds with their enormous wing span, soaring on the thermals over the rock at the entrance to Jolly Harbour. They look so graceful. Then, when we are on a sunset cruise as the sun goes down we watch the Frigates. They get closer and closer to the rock. It's where they roost as the sun sets.
This year we actually got the seagulls feeding out of our hand. Took a while. But, we got there. Check out our Instagram page, Catchthecatanu. The pictures of them are on there, as well as the Pelicans. Always an enjoyment. Just the best divers.
Catch the Cat is the catamaran's business name. The boat's actual name is Elsie Jeanne. She is named after my Mum ( Amy's Nanny ) we lost my Mum/ Nanny two years ago. So, we decided to the name the Cat after her. ( She would be so proud and chuffed to think it was named after her.) So, on the 31st of August this year, my Mum/ Nanny would have been 100 years old, so that afternoon… we sent so much Beautiful Bougainvillea in the ocean for her commemoration, and wished her a Happy Birthday… she is with us every day!
Sailing week was as amazing as ever, we were lucky enough to have guests charter us to watch the start of the Classics in English Harbour…..wow…blown away is an understatement, if you love sailing ….you have got to see it….simply incredible, some fantastic yachts taking place…..probably not as much wind as they would have liked, but still we and the guests enjoyed every minute.
Captain Lushi's son Tyrese was one of 6 guys 18 yrs. and under competing with their 18ft Spirit, racing Yacht……these guys have spent time together learning to sail as young boys, and moving on to still sail together as teenage guys….well they did so well…so proud of them……nearly a first….but attained a great second place, let's hope they race in Antigua Sail week next year….and attain their first.
Well sometimes guests ask me do I find being on the Cat repetitious…… the answer is a HUGE NO…never Captain Lushi and I love what we do, every day is a new day, new Guests, ocean….always different…..sky….usually blue, with lots of fluffy white clouds…..even if the sun isn't in full bloom….to feel warm, beautiful sky's, amazing countryside = a wonderful feel good feeling, we are blessed with an amazing island with the most beautiful lush rolling hills.
On a good clear day we can see the neighboring islands of Guadeloupe…Montserrat….Redonda….St Kitts and Nevis…..you just feel like you could reach out and touch them… you can see the fissures pouring smoke on the mountain where the Volcano is on Montserrat ,we are so lucky to live where we do.
So we came to the end of our second year, 31st August 17 we were going to bring her back to the mooring at the house…..BUT….out in the atlantic was Hurricane Irma, a huge Cat Four….gaining strength as she made her way towards the leeward islands….Eekk so we make the decision, Catch the Cat is to be hauled early, Amy makes a phone call to the marina at Crabbs on the North of the island and its on…Captain Lushi and Amara our Granddaughter make their way up there. She sits in the sling overnight as they are so busy with everyone doing the same as us, next morning bright and early Captain Lushi goes to Crabbs, hauls, and make sure she is in a safe place and well strapped down…sails off, dinghy off and Solar Panels, all stowed away.
Hurricane Irma was heading our way,….houses are prepped, and we wait!! At this time Irma is forecast to be a Cat five+++ BIG……the last time Antigua had an enormous hurricane was hurricane Louis….Huge but small compared to Irma, Irma was packing winds of 180 miles per hour.
As evening approached we were all fearing the worst……The island of Antigua was so lucky as Irma arrived she skirted the northern side of the island and moved in a Northward motion….we sufficed winds of approx. fifty to seventy miles per hour, lucky to say we were saved, yes we hard sea surge, and some flooding….BUT…compared to our sister island of Barbuda……nothing….Barbuda was demolished…..all the 1,600 Barbudans were brought over to Antigua, it will be years before Barbuda gets back on its feet.
Two days later we had Hurricane Jose knocking on our door….yes again….Antigua was lucky….he moved Northward and we were spared.
A week later and Hurricane Maria was hurtling across the Caribbean, again we thought heading for us.....last minute she slams Dominica, as a Cat five and demolishes the island, poor Dominica will take a long while to regain there feet.
Who would have thought we would be dealing with three huge hurricanes in 3 weeks.... Global Warming! WE WERE LUCKY!
We now have five weeks off, to give Catch the Cat her yearly maintenance, provisioning, cleaning ETC….and hopefully….have a few days off.
Catch the Cat returns to year three on October 13th…..looking forward to the season…and all our wonderful guests.
As we sail away
Margot
MY BLOG ON OUR SHORT SAILING VACATION TO DOMINICA...

From October 27th to 1st
We saw that we had a gap in our bookings so Captain Lushi and I decided we would take a short vacation with our granddaughter Amara and Catch the Cat and sail her down to Dominica. We packed very lightly and left Jolly Harbour at 4.30am on Thursday morning, making our passage passing Guadeloupe, The Saints, Marie Galante and mooring for our first evening in Portsmouth (Dominica) looking so pretty at 8.00pm with a the shore lights twinkling, it was time for bed… we were shattered, the gentle rocking in the cabin and the lovely comfy beds didn't see us awake for long.


Friday 28th October
Up with the fish! At 5:30am we departed Portsmouth heading for Rosseau, again calm, calm seas a short 3 hour sail close to the coastline, amazing to see the black sand and such pretty villages dotted along the shore, and the mountains seemed so high and still shrouded in the early morning clouds, as we were approaching Rosseau 4 Dolphins came alongside the cat wishing us a good morning, they were fat and round and very playful… always seems like they are smiling at you.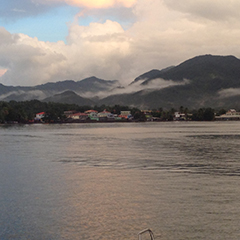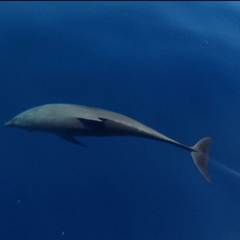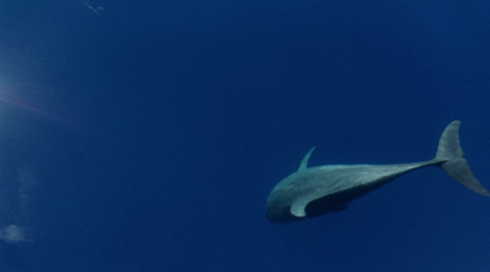 Reached the mooring, Lushi dealt with Immigration and we filled up with gas so we could then look forward to our two days exploring Dominica.
While Lushi at immigration, Amara and I just had to have a swim and snorkel… just so refreshing… Bean was our man who dealt with mooring us, taking Lushi to immigration and Craig was our taxi driver who we had for the two days.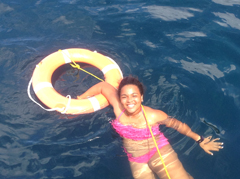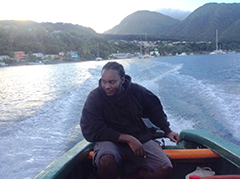 By midday Craig was with us and off we went to the Trafalgar falls, winding our way up into the mountains, the rainforests, flowers, rivers are just breathtaking and just what we wanted to see for ourselves and our granddaughter, reaching the falls it was cool as we were so far up in the hills, oh and they have pipes along the way where you can stop for a cold drink of Chrystal clear drinking water straight from the mountains… how crazy is that! Walking to the falls the foliage and flowers are spectacular... especially if like us... we love nature... reaching the falls there are two Papa and Mamma so Lushi and Amara decided they were going to climb up the huge boulders up to the Papa… no chance… they got half way and opted for the small pool in the middle of the falls, making our way back through many winding roads, stopping at a roadside bar for a really fresh Grapefruit juice… delicious… down to Rosseau for an early dinner, which was near to the stadium where they were holding there Creole Festival…. so we could enjoy listening to the music.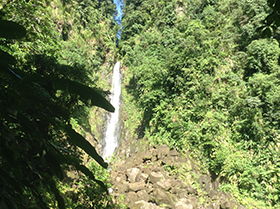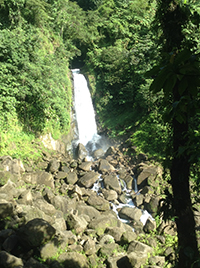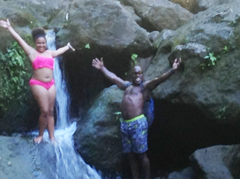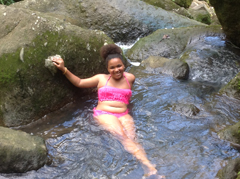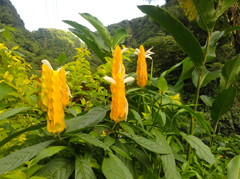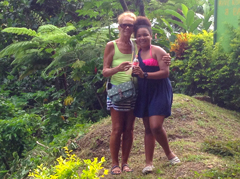 Saturday 29th
An early morning start 6:00am being picked up by boat by bean to go to the Local Market in Rosseau…. Wow! Everything you would need and more, all the different fruits and veggies… fresh fish, honey, herbs… and the list goes on.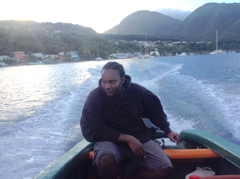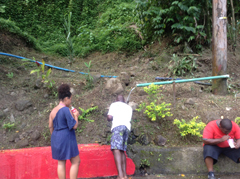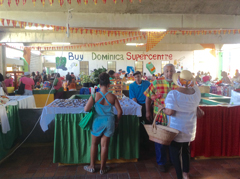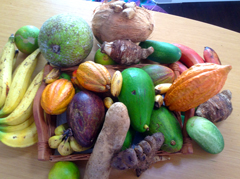 Craig collected us and today we were going to the emerald falls, a beautiful restaurant up in the mountains Le Islet stopped here for lunch, the view was just stunning, and the Carib reserve, stopping at their Quant stalls with the most intricate basketry, necklaces, carved calabash, carved faces, it was endless, would love to have bought them all! Stopping at a local bakery for Cassava bread, straight from the oven…. mmm! Dominicans selling from their homes as we passed by endless breadfruit, the most gigantic Avocados you have seen, Oranges, Grapefruit, starfruit, Cocoa... the list goes on and on.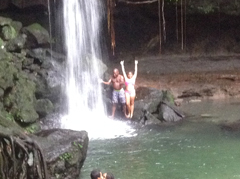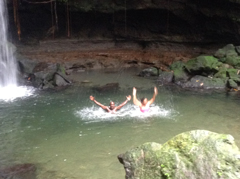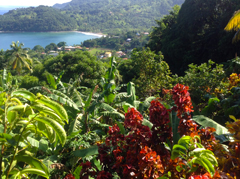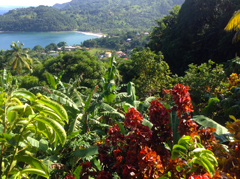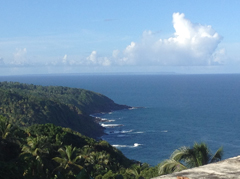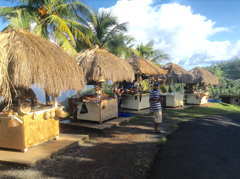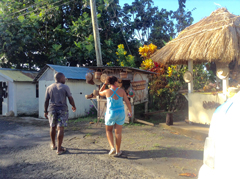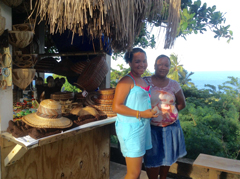 From here Craig took us to the hot Sulphur springs… Wow approx. 90 plus degrees we soaked our bodies in this wonderfully hot muddy looking water… so good you felt like you definatly didn't want to shower it off.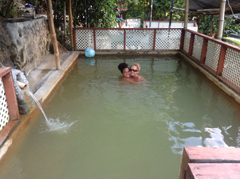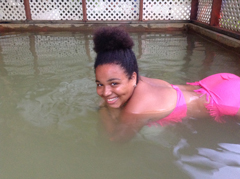 Sunday 30th
6.00 am departure… Sorry to wave Rosseau goodbye, making our way back to Portsmouth, breaking up the return sail for Amara…. reached Portsmouth approx. 3 hours later, and met by Uncle Sam water Taxi… with him we make our way up the Indin river, spotting an Iguana up in the trees, passing the witches cottage (used in filming of the pirates of the Caribbean… the roots on the Redwood trees were amazing, herons fish crabs as we wound our way to the jungle bar… wow so beautiful all made with the surrounding wood, flowers in abundance and Uncle Sam was a mine of information.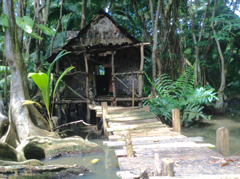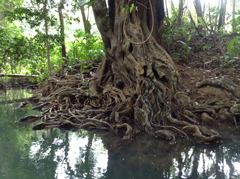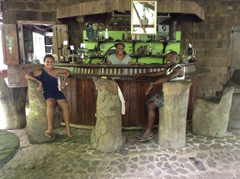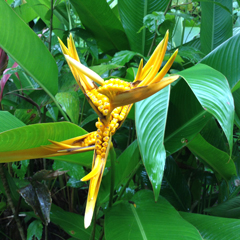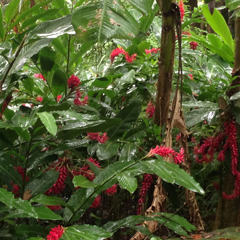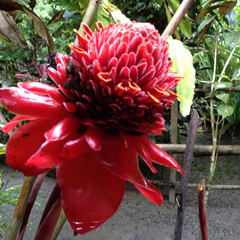 Lunch was had at the Purple turtle, set right on the black volcanic sand just a stones throw from the cat, we dinghy back to the cat and chilled as it we had a typical Caribbean downpour.
 
Monday 31st
An early morning start, Amara still sleeping an hour sail up to Gudeloupe the Northern tip to a quaint little fishing village of Deshaies, so typically French, moored, dinghy to shore and found a wonderful Patisserie… oh my those cakes were looking too lovely to eat… delicious, found a super bar by the ocean and we had mohitos before returning to the Cat, bbq evening steak and salad and an early night before the 8 hour crossing back to Antigua.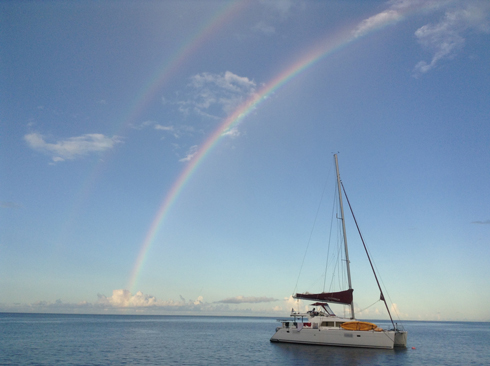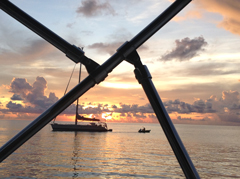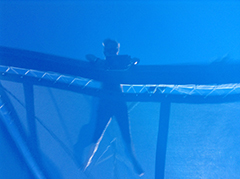 All in all we had the most amazing 5 days down the islands and would do it all again in a heartbeat….so glad to be able to share it with you.
______________________________________________

July 7th to September 1st
Again an amazing Month bookings throughout the month of August, lots of families with their children on holiday having such a fun time together whether swimming, sailing, snorkeling or jumping off the boat, great memories have been made.
This month was the most that numerous guests booked and came out twice, we had one family that enjoyed the whole experience who came out with us for the third time!
The fourth proposal for the year, oh my she was so excited, tears of joy! So lovely celebrating with Champagne on the bow net, beautiful ring, very sweet couple.
Our first Bachelor and Bachelorette groups on board…….oh my the ladies had such fun…..swimming, snorkeling the whole nine yards….lots of laughter and some beautiful photographs….can't wait to see the wedding pictures….the guys, had fun but were very well behaved ( meeting up for the first time for most of them )
Before moving to Antigua 16 years ago I lived in a sleepy little town called Ilminster in Somerset ( a true west country gal) I was so shocked when I had two groups of guests onboard coming from my neck of the woods…… one group all had caravans at West Bay…which is just down the road from me….the other group came from Taunton…..it is such a small world….really nice meeting up with some cider apple folks!!
Want to say many, many thanks to all the guests who sailed with us, this our first year…..the end of year one and we have attained 302 5*star reviews on Tripadvisor we are so elated and want to say a huge thank you to all that sent in their review……it really does matter……….
So September 2, 2016 CatchThe Cat with Captain Lushi departed Jolly Harbour for the Marina at Crabbs ( north of the Island ) where she is up for her yearly manicure and Pedicure……Lushi working very hard on her for the week, she will come home with new bottom paint and a gleaming body….she will be smiling.
Amy and I take over when she is back to Jolly Harbour, cleaning and preparing for the upcoming season……hopefully we will get at least a weeks rest!!
Looking forward to her gleaming body, serviced engines……and the rest….we start our second year, and new season on 26th September…..sooo looking forward to meeting new and returning guests……to do what we do best on CATCH THE CAT…… as we sail away…..
Arrive as guests leave as friends.
_____________________________

Some amazing downpours of rain just recently…and the island needed it, amazing how sailing the South coast how the hills seemed to have turned Green overnight! The ponds and household cisterns are now full…..great.
June saw Catch The Cat still keeping busy which is great 9 Months into her first year, we are so proud, with 261 Trip Advisor reviews, Thank you to all our guests

Sun rising at 5am and Sun setting at 6.45pm means longer days for captain Lushi and Myself…..But beautiful sunny days with approx. 86 degree sea temp….mmmm like a bath…lovely….still no signs of any Jelly Fish!

Dolly the lone Dolphin made an appearance in Jolly Harbour last week, great for the guests, so very excited to see her, lots of pictures taken.

Seen plenty of Turtles also….must be mating season…lot of them up to splashing and floating together out there!!

Again we had lots of honeymooners, birthdays, anniversaries and families having a wonderful time sailing, snorkeling, swimming, floating on the lounger pads just generally having a ball.

Bookings for July are looking good, which is so great, looking forward to meeting lots of new guests, and having a great time.

See you all in August.
_______________________________
Already its Mid June… where does the year go? It's unbelievable we are now in our 8th month.
The weather has definitely got hotter. Days are longer. Sea is warmer! But, no sightings of any Jelly Fish which is good. Don't know that the turtles would be in agreement with me ( as they love Jelly Fish ).
Mid May we had the second wedding proposal onboard, a very special sunset cruise, will they come back for the Honeymoon!
Eight lovely couples on their Honeymoon on sunset cruises, and six anniversary celebrations between May and June. A wonderful group of family and great friends enjoyed there day charter so much ( all of them being avid snorkelers ) came out with us for the second time ( all in one week ). We had a great time. And, a huge variety of fish to be seen at Cades Reef.
A little more has been done this month to help the environment. We have a new poster on Catch The Cat which says... "SAVE A TURTLE"… ask for a straw, every little helps. We had friends staying with us in May so we took a day out with them to cades reef. I haven't snorkeled out there in a very long time, have to say I was amazed at how much live corals and soft corals that I saw. I was so pleased that the reef seems to be improving. The most beautiful lilac and yellow coral, lots of fish, an amazing school of Blue Tang, followed them for ages, must have been at least 50. Saw a nurse shark sleeping tucked in the reef, a huge puffer fish with its big bulging eyes, and a beautiful Sturgeon, and plenty of others, just get lost out there, we must have snorkeled for at least 3 hours. See you all in July... as we sail away.

April 11th to May 8th
Yet another exciting and very busy month for Catch the Cat, so many guests still, it's just wonderfully amazing how well we have done and still only 7 months into our first year.
Lots of guests again from so many different parts of the world, we feel that we have friends in all corners now, which is so nice and so hoping that we have many returning to beautiful Antigua.
April saw two big pods of Dolphins….check out the video on our video page, so super excited as you will hear on the video!, to have these riding the bows of the Cat was a dream come true, so wild and free……….
End of April while anchored at Carlisle Cove we spotted whales in the distance, guests were quite happy that we should investigate approx. 2 miles out was a mother and calf, we thoughtfully stayed a good 50yards away, but good enough to catch sight of them, the mother had the calf on her back and that was what we could see raising out of the water, just think we are totally so lucky to see this….
We were also very pleased that we had some guests who chartered Catch the Cat to English Harbour for day 2 of race week, as they wanted to see the start up and close, oh my it was so amazing to see those Yachts all pursuing position at the off, guests then had a swim at the calm clear waters at Galleon Bay with enough time left to watch the race on its leg down to the finish, very spectacular with an array of the most colorful spinnakers, it really was amazing to see, we felt very lucky to be there.
Very pleased that we had another month of celebrating more Honeymoons, birthdays, families, groups of friends and Cruise ship guests, so memory making days.
Looking forward to May bringing Hotter and longer days
Until June……as we sail away.
April 20, 2016 -
Check out the beautiful dophins swimming along side of us today...
19h February to April 11th
We are so ecstatic that we are now moving into 6 months of business and we are overwhelmed at the amount of bookings we have had, many thanks to all those that have sailed with us and the amazing reviews we have been given on Trip Advisor by our guests, we are now up to 183…. We thank you all….wow so pleased.

Gosh February seems a long time ago now….recalling lots of Vit S, and great sailing, but for those who don't like a lot of sailing we will always accommodate, its whatever our guests wish to do, after all its all about YOU and making your day in Antigua a day to remember.

March saw some amazing breezes I can remember for quite a few days we were making 35 knots at times , but still wonderful blue sunny skies, we spotted Dolphins on 3 Occasions in pods of 3's so exciting….and Dolly ( the Dolphin ) our regular visitor to Jolly Harbour, she has been around a lot through the month, some amazing size Turtles, I think some of them must be over 5ft in length , had some guests that spotted a turtle in Carlisle bay and followed it for ages, certainly made their day, sand dollars, starfish, and a ray that was excellent at backflips! all at Carlisle, have to say one of my favorite coves, such clear waters, we always have bread with us to feed ( our ) fish down there, some super size snapper! With an array of many different species, sure they know Catch The Cat by now!

Did a sunset Cruise last week took us up toward St John with honeymooners, oh my the Royal Princess cruise liner was coming out of the channel so we stayed for a while to see how enormous this vessel was, guest waving to us, ( the sun was setting as she made her way out ) well it made us feel so small, but it was superb to watch, never been so close to one on the water.

We now have Catch The Cat T shirts for sale onboard, 25 US and a cash only purchase, really nice a replica of what Captain Lushi and I are wearing….so hoping Catch the Cat will get seen all over the world with guests proudly wearing them.

Soon will be the start of Antigua race week, so excited, Classics first then the yachts, should get to see quite a lot of the races with our guests while we are on charter, it's an amazing week, not to be missed.

April is already very well booked, which we are very pleased, looking forward to meeting all our wonderful guests, as the days get hotter, longer and the sunsets are always amazing. And everyone departs with happy memories.

Till May……..as we sail away.
15th January to 18th February, 2016
What a great month we have had with "Catch The Cat". Super Trade-winds for sailing, beautiful sunny days (with the odd passing shower) and wonderful guests.
Such diverse nationalities, from Brits, Americans, Canadians, Chinese, Hawaiian, German, Swiss, French… so many wonderful people. All new friends. And, each day sail has been wonderful. We are so pleased that we will have been sailing with "Catch The Cat" for just over 4 months and we have 116 reviews on Trip Advisor. We are all so proud of this achievement in such a short time. You can follow us on Trip advisor, Instagram and Facebook.
The month has seen many Turtles. We also spotted Dolphins twice. (We all get very excited at the sight of a Dolphin). Some of our guests like fishing. So, we put our rod in and trawled as we sailed down the coast and Bam the sound of the reel screaming. YES, we had caught a wonderful 10-12 lb. virgin Snapper. Captain Lushi cleaned it up. Lucky for us, the guest was happy for us to take home for dinner YUM YUM… in the freezer.
Some great snorkeling has been had a Cades Reef. A lot of beautiful fish, stingray we have a 3ft Barracuda who quite often likes to say hi!!
Plenty of celebrations also, Birthdays, Anniversaries and Honeymooners.
Have to mention that we had two lovely guests out on "Catch The Cat" who have given us the most amazing spot on their Blog - should you wish to follow them go to: www.myhobbitshed.com You will be amazed!
And so the month of February progresses and "Catch The Cat" is extremely booked (Thank you) through to the beginning of March. The days are getting longer. So Sunset Cruises become later. By the way, we have had some incredible sunsets… spotting the Green Flash quite a few times. While the amazing, giant Cruise Ships hug the horizon, our eyes are drawn to the Frigate Birds soaring way above just taking their time to come and roost at 5 Rock as the sun has set.
See you all in March… as I sail away!
HAPPY NEW YEAR - 2016!

Blog update from: 21st December 2015 to 15th January 2016
The Christmas breezes have arrived... great sailing weather... Reef in the sails for a few weeks... Decked up Catch The Cat with some tinsel... to make her look festive…Captain Lushi and myself with our Christmas hats!... we did take Christmas day as a vacation to spend some time as a family... wonderful day... from there we have been booked every day... which is wonderful... We have had lots of guests celebrating the past month. Honeymooners... Anniversaries... Birthdays... Cruise ship Guests... Families celebrating Christmas... just an amazing time of the year... we thank you.
We have seen so many fish at Carlisle Bay... Turtles and Pelicans... Even had guests with Go Pro  video a sleeping Nurse shark... amazing... neighboring islands have been so clear... Guadeloupe... Montserrat... Rodonda... Nevis... and St Kitts... you feel you could touch them! Royal Caribbean Cruise ship guests... Band from the states... The Nadas. They were great… Good Luck Guys. The band has been together for 23 Years... lots of laughs... Great snorkeling... swimming... sailing... and the icing on top of the cake!! Dolphin spotted at 5 Rock this morning... we were all very excited. Playing in the surf.
DECEMBER 2015
20th December... Another guest sailing us with Captain lushi on their 6 Hour cruise...we left a short shower of rain behind us as we departed Jolly Harbour... Cades Reef... cruising Goat Channel making our way to Carlisle Bay...crystal clear waters... turtles and fish galore... Christmas Breeze definatly with us today... smelling the aroma of the BBQ while taking a swim... drawing guests back to the Catamaran... lovely lunch followed by a blissfull sail taking in the scenery on our way back to Jolly harbour... another great day for Catch The Cat.
19th December... Lovely evening... lovely guests on relaxing Sunset Cruise... Backdrop of lush rolling Hills... Antigua is so beautiful especially from the ocean... sailed towards the North…Cruise ships leaving St Johns to visit another Island... they are so great... it makes us feel so small!... we had a great evening.
18th December... Eight lovely ladies on a memorable sunset cruise... perfect evening... we could see all the islands so clearly... Guadeloupe... Montserrat... Redonda... Nevis and St Kitts... amazing... and a perfect clear sunset was the icing on top of the cake... we all got to see the incredible GREEN FLASH.
17th December... Another lovely sailing day on Antigua waters... again a guest sailing day with Captain Lushi... sailed to Cades Reef... then close to the coastline making our way to the secluded Pinchen Bay for lunch... swaying Palms..pristine beach... swimming... go pro fun... all made for that perfect day in paradise.
17th December... Again we had a lot of guests wishing to try their hand at sailing... sunset cruise... picture perfect sailing evening... .snacks and cocktails all made for the perfect evening.

16th December... Superb day... 6 hour cruise extended to 8 hour include sunset guests enjoying their day so much... guest took the helm with Captain lushi for the morning sail to Carlisle Bay... eally enjoyed it... tried the tribord full face snorkel mask... and loved it felt very confident... lovely lunch... lots of laughs... cocktails for sunset... we all had a great day.
14th December... 6 hour cruise day, sailing swimming snorkeling... lots of turtles today... and lots of butterflies... just like snow and over the Caribbean sea as well... guest taking the helm with Captain Lushi…really enjoyed his sailing... Christmas breeze up!
12th December... late booking... Sunset cruise... lots of sailing... great company lots of fun... Pelicans... butterflies... frigates galore.
11th December... wedding Anniversary celebrations... chose 6 hour cruise... made the most of the day exhilarating sailing... guest loved every moment... snorkeling... swimming... total relaxation.

10th December... Sunset Cruise... Reps and guest services from Hotels... .get acquainted with Catch The Cat... successful evening.

10th December... Lots of Turtles today... super sailing... Coming up to Christmas... Christmas Breeze! all the way to Carlisle bay... Lunch onboard... Super sunny day.

9th December... Amazing Sunset Cruise... .the sun definatly had its hat on today... superb colour formation... we almost got the green flash... A Place In The Sun!

9th December... Honeymoon Lunch... amazing sailing... wow! 4 Dolphins spotted... made their day... beautiful Calm clear waters of Cades Reef... sailed away whilst having Lunch

5th December... Lunch cruise... 50th wedding anniversary celebrations... Guests preferred sailing... perfect day... calm sea... lovely lunch followed by relaxation... floating pads... bottle of bubbles.
3rd December... Sunset Cruise... reps... Guest services... Showcase Catamaran... excellent evening.
NOVEMBER
28th November…. Sunset cruise…..extra hour….include a snorkel at Cades Reef…..honeymooners….. had such a wonderful time
28th November…Breakfast Charter…..Family fun…granddads special birthday….lovely cake..candles…..sailing…snorkeling…jumping in…memorable
27th November…. Sunset cruise…..Family gathering …..very relaxed….cloudy horizon….threw up some lovely colors in the sky though
27th November…. Another sailor in the making…. Sailed most of the time……perfect 4 hour lunch cruise…cades reef snorkeling….Lunch under sail… Jumping and splashing having such fun
26th November…Sunset sail….Honeymoon couple…what a blast….a sneaky sunset…..just a split second green flash moment as the sun set…. We captured the moment
26th November….Thanksgiving day….. 4 hour lunch cruise….choices…. it was a JUST SAILING day…guest sailed whole time….thoroughly enjoyed it…felt special…that's our aim
25th November….a very special 6 hour charter….beautiful blue skies..a perfect sail…lots of Turtles……Carlisle bay for lunch…. Yet another perfect day in paradise
24th November…great group of friends….6 hour charter….fishing along the sail….12lb Virgin Snapper….yum yum…Captain dressed fish for them…..superb BBQ dinner
23rd November….Antigua Antigua….catamaran…sailing….charters…private….day tours…..special occasions……… Captain Lushi Hostess Margot
22nd November…..Christmas gift from parents….6 hour charter…just for two…..plenty of sailing….took the helm….lunch-swimming-snorkeling-chilling= perfect day
21st November…..10th Anniversary…… special celebrations….cades reef …water amazing calm and clear….great fun jumping and diving from the boat in a secluded bay……Antigua…Antigua.


19th November…..Honeymoon couple…beautiful weather…blue skies….said they felt like royalty ……private charter…catamaran ALL to themselves…..memorable occasion
18th November…..lunch cruise…what a blast…group of very good family and friends holidaying in Antigua….spot of fishing while sailing….superb snorkeling….with a beautiful swim on the return journey
17th November…..Birthday celebrations…… Cades Reef…amazed at the sea life…..Lunch under sail….say no more …Perfect birthday.

17th November….. Sunset cruise……told me a very special secret!....adored the sailing….weather not perfect….but had a wonderful memorable time.
16th November….. Very relaxing Lunch cruise…… scenic south coast….. cades Reef….Snorkeling and swimming…ladies relax on Trampoline….Sunning themselves.
15th November….. second time around for this group…… sailing to Carlisle Bay…… Knew where they wanted to go…..lots of fun had by all.

14th November…. Last minute lunch cruise….wind was up and a great sail over to Cades Reef……..Hugged the coastline while having lunch…..Pinchen bay for a relaxing swim with a spot of beach combing…..great day.
13th November….Despite the date and the day! A 6 hour family of 4 sailing cruise to Carlisle bay was a blast…… thoroughly enjoyed sailing…and they all loved snorkeling with the full face masks.

12th November…. From a damp day- to a glorious sunny sunset Cruise…..lots of fun and laughter…… amazing cloud formation surrounded an unforgettable sunset….Great friends were made.
12th November….. Set sail from Jolly harbour….Ladies lunch cruise……Liquid sunshine appeared!! ……did not dampen the ladies spirit….lovely lunch…swim…. Secluded bay….still enjoyed their day.

11th November….. Sunset Sailing…..Bo Tours……guys and girls from the company…..experience the catamaran= advise hotels guests of the tours Catch The Cat has to offer.
11th November…..Family visiting Antigua from Cruise ship…….all loved sailing…..Birthday celebrations……. Sun is shining…beautiful blue skies……full face snorkel mask were great….spotted lots of fish.

10th November…..6 hour charter….beautiful sail over to Cades Reef….Anniversary celebrations……Lobster lunch all round…. Calm crystal waters of Carlisle Bay…..snorkeling and having lots of fun….an amazing day
8th November…… Antigua sailing……beautiful sunset…… again lots of turtle spotting…..rock the boat cocktails…..board as guests ..leave as friends.


06/11/2015
Total strangers made friends and got together for their Catamaran Charter….. sun didn't have its hat on today!......didn't stop the fun……lovely sail…..snorkeled at the Andes ship wreck…….enjoyed freshly prepared Lunch on board the catamaran……. Had a very enjoyable day…despite the overcast sky.
05/11/2015
Amazing Surprise Gift……Guys treated girls to Fab holiday in Antigua……a day sail on the catamaran….Total surprise to them!! Special 40th birthday celebration….birthday cake…..Lots of turtles…..sailed the catamaran under watchful Captain Lushi…….crystal clear waters……loved every moment= memorable.
04/11/2015
A superb sailing day aboard Catch The Cat…… a wonderful Family reunion….. picturesque south coast sail…….Anchored at a secluded bay…lots of swimming,snorkeling,fun,lunch and champagne.
03/11/2015
Beautiful day in Antigua…..Cruise ship Guests…..Snorkel at Cades Reef…. Lunch while Catamaran sailing to secluded bay……enjoyed the sensation floating pads….. spotted a huge Ray!

OCTOBER:
29/10/2015
Again another amazing Sunset cruise……. There is never a time on the water when we are not greeted by those amazing Turtles…..always making themselves known…. Like little submarines popping up….lovely couple enjoyed there sail immensely…….great conversation had by all……as the sun was setting we all watched the biggest Cruise Ship make her way out to sea, heading to another island….looked so pretty with all its lights on.
28/10/2015
What better way to celebrate your Honeymoon……..a sunset Cruise……on this particular evening we sailed North and South…….Rock The Boat cocktails were enjoyed……perfect evening watching the Frigate Birds and Pelicans roosting down for the evening at 5 Rock as the sun was waning away to greet another country.
27/10/2015
Family of 4 having great fun…….4 hour lunch cruise to Cades Reef……Dad an avid fisherman as well as Captain Lushi…..sees that we have a rod on board……out goes the rod! …within 15 minutes we have a bite…. Dad was ecstatic a lovely 8lb virgin Snapper…….made his day…..all the family had a great snorkel/swim at the reef…..while having lunch we up sails and glided gently into a secluded bay at Darkwood Beach…..where the family enjoyed another swim/ jumping of the Cat before we made our way back to Jolly harbour…… Captain Lushi prepared the fish and the family enjoyed it for supper….perfect Day.
26/10/2015
A very gentle 6 hour lunch cruise………senior couple…….meander along the coastline…..beautiful weather a balmy 86 degrees…… swimming/relaxing…….lovely BBQ lunch…..fresh fruit Kebabs…..Caribbean cake………All Homemade……they thoroughly enjoyed their day.
25/10/2015
What a blast!...4 hour lunch charter…….snorkeling the wreck of the Andes Deep Bay…….lots of sea life…water very clear for snorkeling….loved the full face masks… anniversary celebrations….lots of hilarious jumping off the catamaran……..viewing the many boats zooming past on the poker run.
24/10/2015
What a gift from their family…… Sunset Cruise…….weather not the best on this occasion…….very little sun…. horizon shrouded in a lot of cloud…..but.. their review said it all…..they had a blast!
23/10/2015
Just 2 guests on a 6 hour charter who wish to do more sailing……we do accommodate guests…it's your day we do what you want to do…… a typical day for Antigua…..sun is shining a beautiful day….
Heading South hoisted the sails and Catch The Cat is cruising…….lots of Turtles/frigates soaring/ Brown Boobies skimming the surface of the water/ and the Pelicans in pairs ….on police patrol!!
Anchor at our favorite Bay…Carlisle…. It's so super calm here with an amazing backdrop…..guests had a good hour amazed at the underwater world snorkeling, before a sumptuous BBQ lunch on board.
22/10/2015
Departing from Jolly Harbour our sunset cruise caressed the coastline passing the famous Hawksbill Rock, Galley Bay, and Deep bay……..the sky was a perfect blue……you could tell the sunset was going to be perfect…… and the breezes gentle…..we went as far as the entrance to St Johns …… we could see the Frigate birds hovering ,as the Tuna and many of them, were teasing them by jumping out of the ocean. A special sunset with senior parents who had not been to the island before…..they enjoyed every moment.
21/10/2015
Returning guests to the island….enjoyed a very peaceful family day on the Caribbean sea…..a 6 hour charter took us to our beautiful calm clear waters of Carlisle Bay……….. where the family enjoyed lunch, swimming and relaxing/ previously had only been as far as Cades Reef……. A gentle sail late afternoon taking in the coastline of lush rolling hills.
19/10/2015
What a Sunset Cruise!....i cannot remember seeing the ocean so Ice Calm…..it was truly Amazing…so much so you see the bottom of the ocean so clearly…..we could see all the colorful varieties of fish/ Starfish and even a ray from the deck of the Catamaran…..clearly turtles were seen today…….guests enjoyed a very special sunset cruise.
17/10/2015
Another amazing 8 hour charter…..winds were very favorable as we headed towards Cades reef…. Our two mile barrier reef……guest taking the helm under the watchful eye of Captain Lushi….Montserrat was so clear today… you felt you could almost touch it….. lots of Turtles popping up to say hi. Anchored at the calm clear waters of Carlisle Bay…..fish were in abundance today…..lots of snapper…..guest enjoyed snorkeling the small reef……lovely lunch…… late afternoon hugging the coastline….watching the Frigate birds soaring above…..Great day.
16/10/2015
Lovely 4 hour Lunch Cruise to Deep Bay…..Guests snorkel the wreck of the Andes……Celebrating anniversaries…both couples……enjoyed freshly prepared lunch and lots of Bubbles….. very relaxed sail back to Jolly harbour … New Trampoline so comfy ….think they had a little nap!!
15/10/2015
Very light winds today as we sail toward Cades Reef…..under the conditions only Main sail and engines……Guest adored being Captain at the helm under the watchful eye of Captain Lushi….beautiful clear sunny day……and again lots of Turtle sightings. Guests wished they had booked a longer cruise/ so enjoying their Private Charter.
10/10/2015
Beautiful sunset Cruise….very special celebrating an 80th birthday…..lots of Rock The Boat cocktails….. a moderately breezy day….and Captain Lushi notched up an amazing 8-9 knots under sail…. The group being partly sailors were ecstatic….especially as she sails so stable.
08/10/2015
Honeymooners on a 6 Hour sail……totally alone…lots of privacy……did the whole package….sailed/swam/enjoyed the sticky BBQ chicken lunch…..spotted lots of turtles on the return sail.
07/10/2015
Great fun couple booked an all day 8 hour Charter with us….lots of sailing as this was their preference….. sailed to Carlisle Bay where guests tried the new full face tribord mask…and the sensation floating pad…..from being an unsure snorkeler ….loved the mask and floating pad…couldn't get them out of the water!!
05/10/2015
An amazing day….first charter…..booked a very special extended Sunset cruise including Lobster dinner/ champagne…..Deep Bay and secluded beach….totally alone….and he proposed…and she said YES……so memorable…. What a first charter!
SEPTEMBER:
26/09/2015
Very exciting …..Our Photo shoot ….Drone….Group of friends……Amazing sail to the secluded bay of Carlisle Bay….shoot was amazing…really pleased with the Video.