Antigua Wedding, Anniversary and Private Event Charters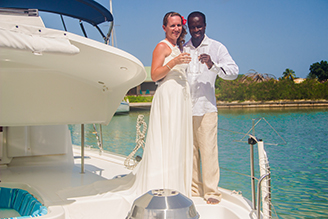 We specialize in fully customized charters for individual events.
"Catch The Cat" is perfect for celebrating a memorable occasion. Our private cruises are especially suited for intimate gatherings of friends who wish to have their own exclusive sailing cruise. Whether you are planning a wedding, honeymoon, anniversary, birthday celebration or another special event, "Catch the Cat" Charters can make your dream a reality. Captain Lushi and Margot are always helpful, friendly, discreet and courteous. They are dedicated to your needs and enjoyment.
The entire catamaran is at your disposal to ensure that the most important day of your life is also the happiest. "Catch The Cat" luxury catamaran provides the ideal venue and breathtaking backdrop for an unforgettable event, as we sail along Antigua's beautiful coastline. Amy, our charter specialist is standing by to assist you in creating your perfect day in paradise.
On CATCH THE CAT its your day so its up to YOU!
If you prefer more sailing or snorkeling, relaxing at a secluded bay or spending time on a deserted beach - we can change your day to suit you at a moments notice.
After all its your day and we will customize it YOUR way!